Backup Strategy Best Practices
Data is the most important asset for most businesses. Continued access to business data and IT systems is becoming a requirement for most organizations.  Backups are an important component of disaster recovery and business continuity. Putting together a plan for your organization will ensure that you will have access to your data in an emergency. 
7 Key Questions to Ask When Developing Your Business Backup Strategy
Asking and answering these 7 key questions will help your organization determine the best backup strategy. 
What needs to be backed up?
The main sources of data to consider for backup include files, folders and application data and databases; your systems which will enable quick restore; email and cloud storage data in cloud based applications; data that is original in printed or hard copy formats including contracts, leases, HR forms. Identifying everything that needs to be backed up will also give you an idea of your approximate data volume. 
Where does this data reside?
It could be on workstations and servers owned by your organization, mobile devices and laptops owned by your employees, in the cloud, in cloud based applications or email systems. 
How much work are you willing to lose?
The response to this question will determine the frequency of your backups. This is also known as the Recovery Point Objective. 
How quickly will data need to be restored
?
When your organization experiences a data loss event, how quickly will the backup copy need to be restored? This is referred to as the Recovery Time Objective. 
Who will manage, 
monitor,
 and test the backups?
Backups typically do not run flawlessly on their own and will need to be managed and monitored to ensure they are valid and up to date. From time to time, businesses also need to conduct a test restore to make sure they actually work. Determining who will oversee your backups will help you ensure you have adequate human resources to manage and monitor your backups. For organizations without adequate in-house staff, a backup as a service or managed backup solution should be considered. 
Are there industry compliance issues that need to be considered?
Organizations that operate in industries that need to comply with HIPAA, FINRA and NIST have very specific requirements they need to meet. Determining the exact requirements that need to be met first will enable your organization to find the best solution. 
How much should it cost?
What is your budget for a backup solution.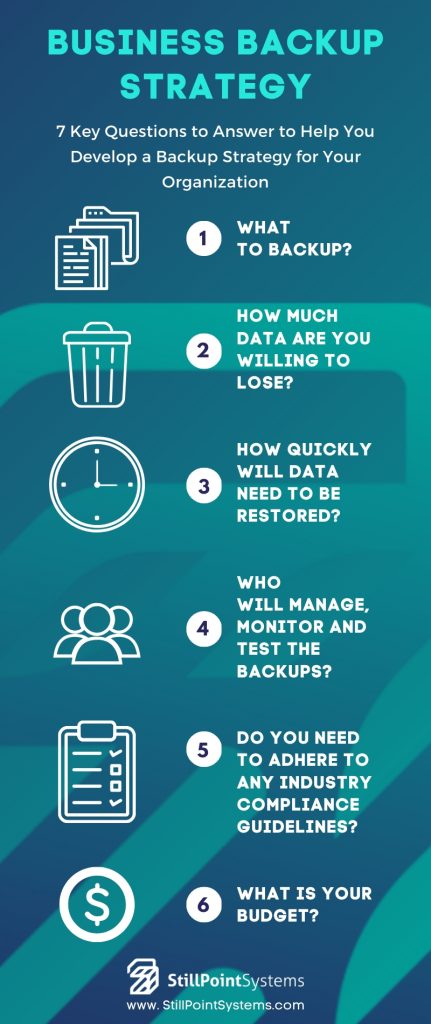 Once you have a clear idea of what your objectives and resources are when it comes to the backup needs of your organization, it is time to consider what appliances and media will be used to manage your backups. 
There are three general directions that your organization can take when choosing your backup strategy. Following are details for each strategy.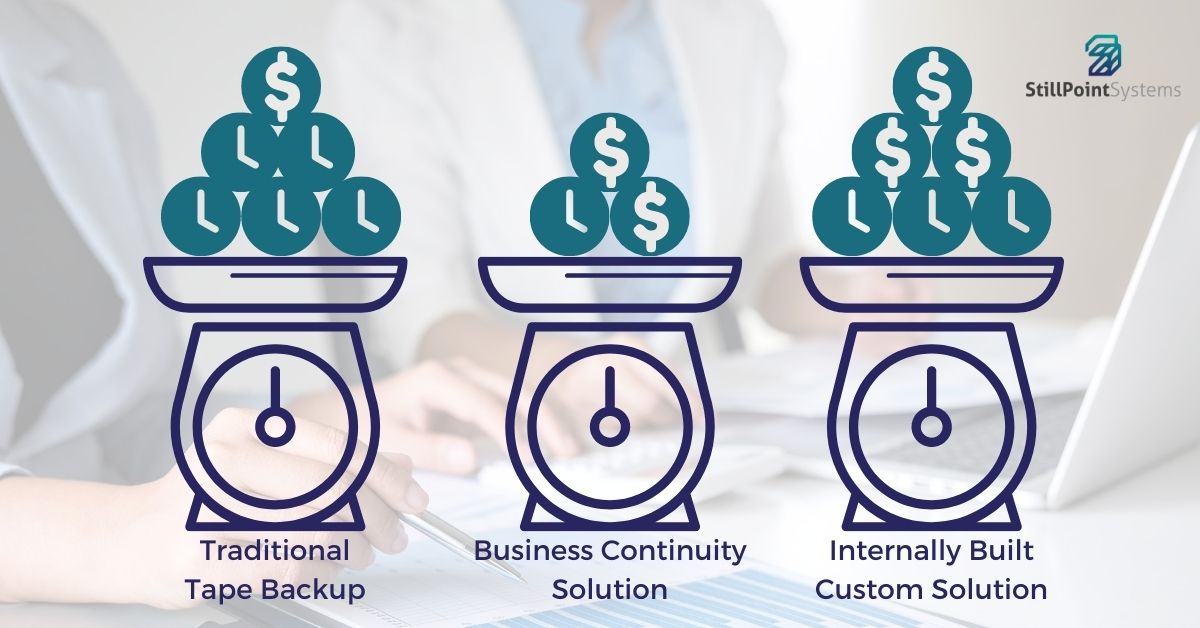 Traditional Backups
Traditional backup solutions typically include tape backups, or other media and backup schemes designed for some redundancy. With this option, the cost of backup media is often very cheap, but maintaining and managing the system requires a great deal of man-power. This option is ideal for organizations that have a dedicated IT team to manage the backups. Traditional backups do not incorporate a disaster recovery solution so recovering from data loss is also very time consuming and testing and management of the system requires a great deal of time. 
Business Continuity Solutions
Business continuity solutions take backup to the next level and are designed to minimize downtime and recovery time. The cost of business continuity solutions are higher than traditional backups, but they require significantly less resources to maintain and manage. Recovery time is much quicker and significantly less manpower is needed to manage, maintain and test the solution. 
Internally Built High Availability Solutions
Enterprises that require high availability can also build a backup solution in-house. Such custom built systems are more costly and require more manpower than the other two options. There is typically a significant hardware investment required and redundancy needs to be designed into the system.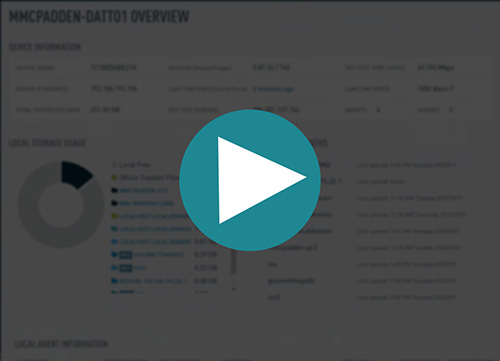 See how easy it is to restore a backup to a virtual machine in just a few clicks. In this FREE 7 minute demo, we present the Datto Siris and show you how easy it is to manage and restore your backups.