There are many backup options to choose from when designing a backup solution for your organization. The best option will depend on your needs and your backup strategy. In general, backup options can be evaluated on the following: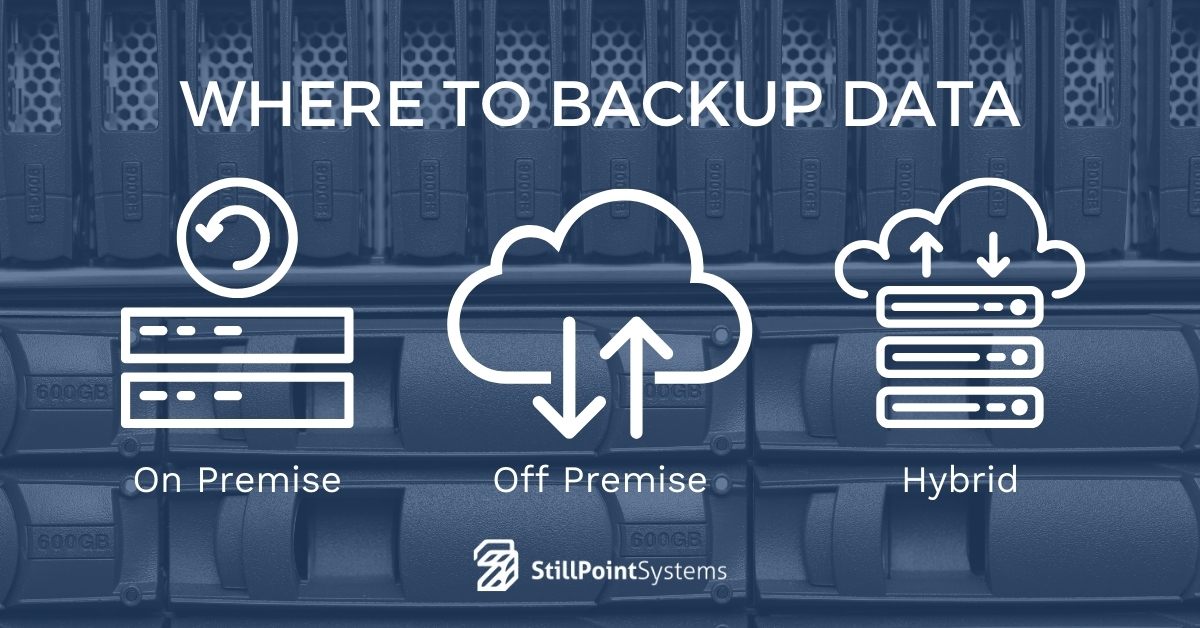 Where will you be backing up to? 
On Premise Backup
An onsite backup is a copy that exists in the same location as the original data. This onsite backup can be stored in one of the following scenarios or both: 
Internal- on the same device that the data is on

 

External- on a variety of different types of media or backup appliances

 
Off Premise Backup
Backup copies can also be stored off-site or in a secondary location. In the event of a disaster where your office cannot be accessed, the off-premise backups can be used to restore your data. There are also several options for storing off-premise backups.  
Secondary Location- a secondary location may be another office or warehouse you manage. Traditionally, tape backups were used, and these physical copies were stored in a second physical location. Some businesses store these secondary off prem copies at a second business location and make the backups over the internet.

 

Cloud Backup- backing up your data to the cloud is growing in popularity as an off prem backup option. 

 
Hybrid Backups
Whether you store your backups onsite or offsite depends on your needs for the availability of your data and other considerations such as industry compliance guidelines. In general, most experts recommend a hybrid backup approach. Hybrid backups include an on-site back-up along with an off-site back-up and combine the benefits of on-prem and offsite backup.  
What Type of Backup Media or Appliances Are Available? 
There are many options for backup media, hardware, appliances and storage devices. The one you pick again depends on some of the answers to the questions in our backup planning and strategy article. Following are some of the more popular types of Backup Media: 
Tape Backup
Traditionally, tape media was used to store backups. Tape media is inexpensive; however it requires a dedicated individual or team to implement and manage the backup solution. Ideally copies of tape backups will be stored off-site and organizations use various strategies to rotate tapes. Some popular tape backup strategies include: Grandfather, Father, Son, Tower of Hanoi, 5 Tape Rotation.
Tape backups are sensitive to temperature and environmental factors and need to be tested frequently to make sure they are not damaged and to ensure complete backups are possible.
RAID Storage
RAID or Redundant Array of Independent Disks is a data storage technology that combines several physical disks into one unit. Most RAID solutions offer data redundancy.
Network Attached Storage
A NAS is an external file storage device that enables multiple users on a local area network (LAN) to access the data. It is ideal for organizations that have a large amount of data which needs to be shared internally. However, there are limitations. Data on a NAS can only be accessed in the local area network and NAS storage is not ideal for organizations that need to recover data quickly.
Flash Drives and Solid Data Drives
SSD drives offer very fast throughput rates making data transfer to and from the media very fast. However SSD drives have a higher failure rate than other types of media.
External Drives and USB Drives
External drives are very fast and inexpensive and can be used for copying data. However, they are not a viable backup options for organizations that need to recover data quickly and require frequent backups. External drives can be corrupted easily and data loss is inevitable.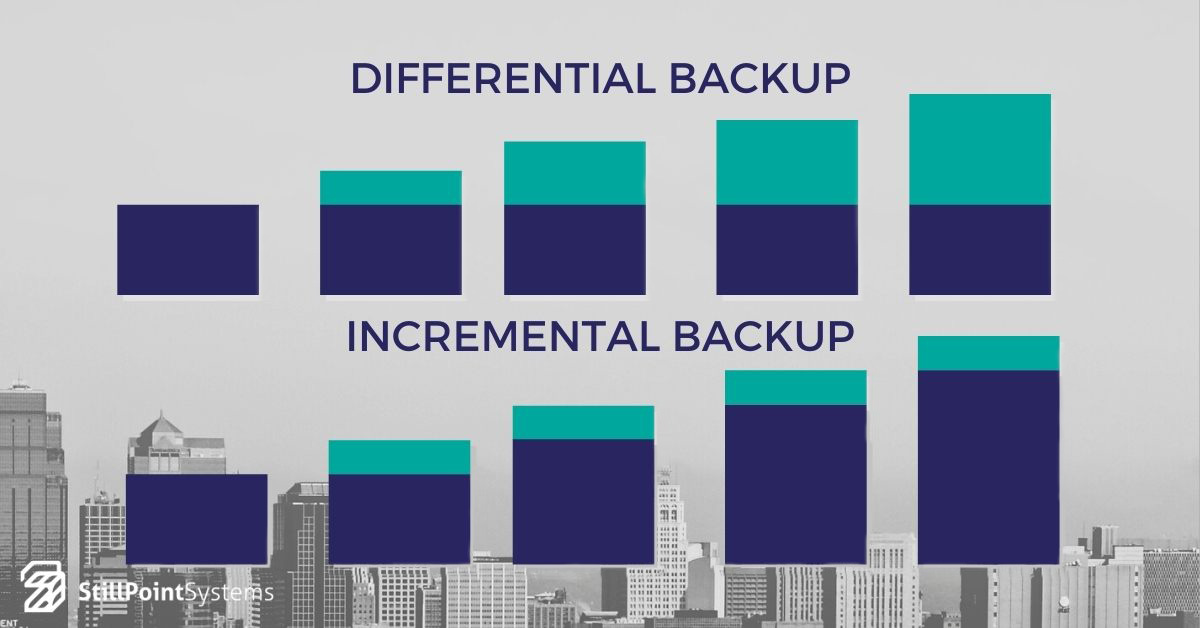 How Much Will You Be Backing Up? Incremental, Differential & Full Backups Explained 
What is full backup?
A full backup is a single copy at a given point in time of all the data and files that are required to be backed up.
What does an incremental backup do?
Incremental backups only copy the data that has changed or has been created since the last backup was done. This approach is used when there is a lot of data and it's not possible to conduct a full backup every day.
What is differential backup?
A differential backup includes all the data that has changed since the last full backup. Similar to an incremental backup, a differential backup would back up the same items as an incremental backup the first time it runs.  However in subsequent backups, the differential backup will copy more and will store more data than the incremental backup.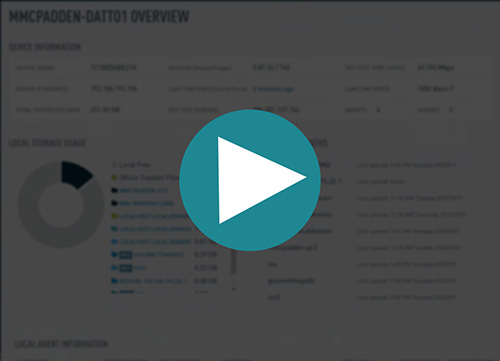 See how easy it is to restore a backup to a virtual machine in just a few clicks. In this FREE 7 minute demo, we present the Datto Siris and show you how easy it is to manage and restore your backups.