All-in-one Business Continuity and Disaster Recovery (BCDR) Solution Designed to Prevent Data Loss and Minimize Downtime for Your Organization
Data is the most important asset of businesses today and protecting your business data is crucial to ensure business continuity. The Datto ALTO 3 offers a robust and professional backup solution specifically designed for small businesses and nonprofit organizations with a price that is affordable for the small but growing  organizations. Datto's ALTO 3 Pricing is available upon request.
RISKS of DATA LOSS
It's not a question of "If?" but a question of "when?"
what it will data loss cost your business?
SMBs Experienced a Malware Attack in the Last 2 Years
$146,900
The average cost of a Ransomware Attack.
in 2019:
$5,900 was the average cost of the ransom
$141,000 was the average cost of downtime.
Small Businesses that experience major data loss go out of business within a year
Source: Datto Ransomware Report & PricewaterhouseCooper
Features & Benefits of the ALTO 3
On Site Data Protection
Your data is backed up on site using the Datto ALTO 3 device we will ship you.
Offsite Cloud Protection
Information on the ALTO 3 is backed up to the cloud so you can have access to your data in case of damage to your office.
Fast Data Recovery
Information backed up on the ALTO 3 can be recovered within minutes and we can help you restore a specific file or full system if you need us.
Complete Confidence In Your Backups
With the Datto backup verification service, you can confirm your data is backed up successfully and current. 
RANSOMWARE DETECTION
The ALTO 3 will detect suspicious activity and will notify you of likely ransomware attacks. 
GET STARTED QUICKLY
The Datto ALTO 3 works right out of the box and requires minimal setup and we provide the support to get you setup quickly.
Small Device
The ALTO 3 provides big benefits and security but is small enough to fit on a desktop. The Datto ALTO 3 measures in at 5 x 5 x 2 inches.
affordable
The Datto ALTO 3 offers robust and reliable data protection at a price that is affordable for small and medium sized businesses.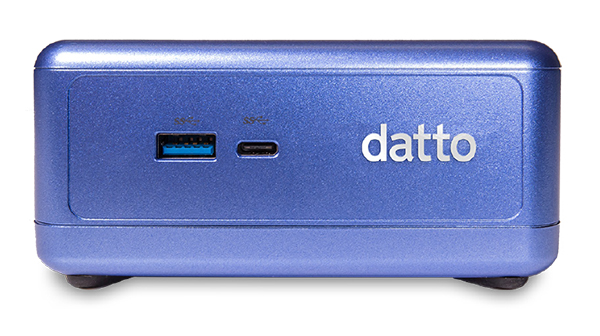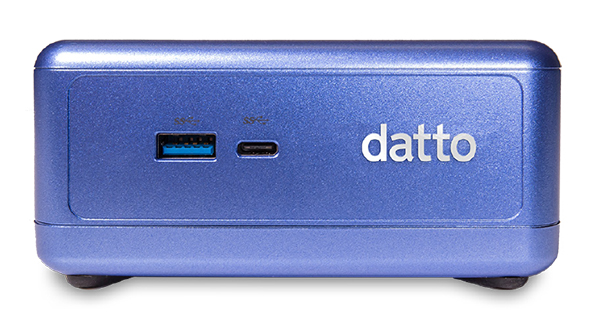 ALTO 3 Hardware Specifications
| | |
| --- | --- |
| Storage | 2TB |
| RAID | – |
| OS Drive | – |
| RAM | 8GB (DDR4) |
| CPU | Intel Celeron 3865U |
| Network |  1 x 1GbE |
| Chassis | Mini Desktop |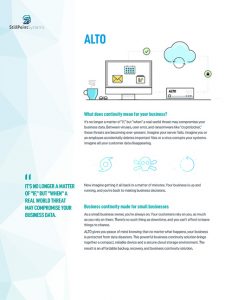 Email Me the Datto Alto Brochure
Submit your email below to receive a copy of the Datto Alto brochure – a printable PDF document with all the specifications and features of the Datto Alto.
Frequently Asked Questions about Datto Alto 3
What operating systems does the Datto ALTO 3 work with?
The Datto ALTO 3 is designed to work with the most common operating systems in use by small and medium business: Windows, Mac and Linux. Datto ALTO works with the more recent versions of these operating systems. We will work with you to ensure that the ALTO will work with your business network.
Are there minimum network speed requirement to use the Datto ALTO?
The Datto ALTO relies on a healthy local network and internet connectivity to transfer your back up data to the cloud. The minimum connectivity requirement is 1 Gigabit between all protected machines and the Datto ALTO. Additionally, for your WAN consideration, you'll need at least 1 Megabit per terabyte of protected data. If you are a small business owner without IT support or staff, we will assist you in determining if you have adequate network connectivity to support your Datto ALTO 3.
Virtualization is a key benefit of the Datto ALTO 3, but why should you care?
The Datto ALTO 3 backup and disaster recovery solution makes a virtual image copy of the computer or server you choose to backup. Virtualization, defined as making this virtual copy, means everything on that computer or server gets copied. This includes the operating system, software and all the data. The key benefit of this virtual copy is that if your server or computer crashes, a complete copy of the system can be loaded up on new hardware very quickly, saving you lots of time that you would otherwise spend reloading operating systems, software and more.
Call us at (818) 528-5600
for information on the Datto ALTO