HIPAA Compliant Backup & Disaster Recovery Strategies for Healthcare Organizations
Healthcare organizations have a long list of guidelines to follow to keep patient data and electronic protected health information (ePHI) private and secured and also maintain compliance with HIPAA. "ePHI" includes all patient information, including diagnostic and medical information, accounting data, and documentation such as x-rays and images.  
If you are in the process of evaluating or upgrading the backup solution for your healthcare organization, you may be wondering what features to look for to ensure HIPAA compliance.  The HIPAA security rule has guidelines in place to make sure that patient data and ePHI is backed up and that this data can be restored in the event of an incident. These requirements are included in the HIPAA Security Rule and allow for some flexibility of approach.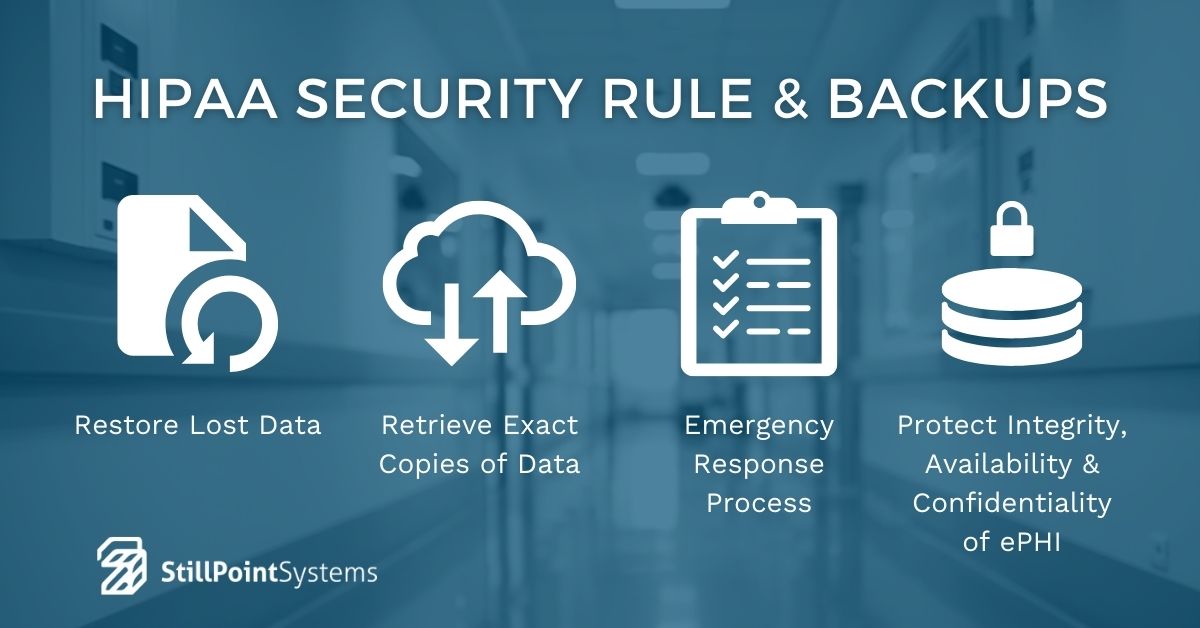 Here are some key excerpts from the HIPAA Security Rule as it pertains to backups and disaster recovery:
CFR 164.306 (a)(1) all covered entities must "

Ensure the 

confidentiality

, 

integrity

, and 

availability

 of all 

electronic protected health information

 the 

covered entity

 or 

business associate

 creates, receives, maintains, or transmits."

 

164.308  (a)(7)(

i

) "

Establish (and implement as needed) policies and procedures for responding to an emergency or other occurrence (for example, fire, vandalism, system failure, and natural disaster) that damages systems that contain 

electronic protected health information

."

 

CFR 164.308 (7)(ii)(A) all covered entities 

must  "

establish and implement procedures to create and maintain retrievable exact copies of 

electronic protected health information

."

 

CFR 164.308 (7)(ii)

(B)

 

Disaster recovery plan (Required).

 "Establish (and implement as needed) procedures to restore any loss of data."
For Healthcare Organizations Backups Are Required! Here is What to Look For.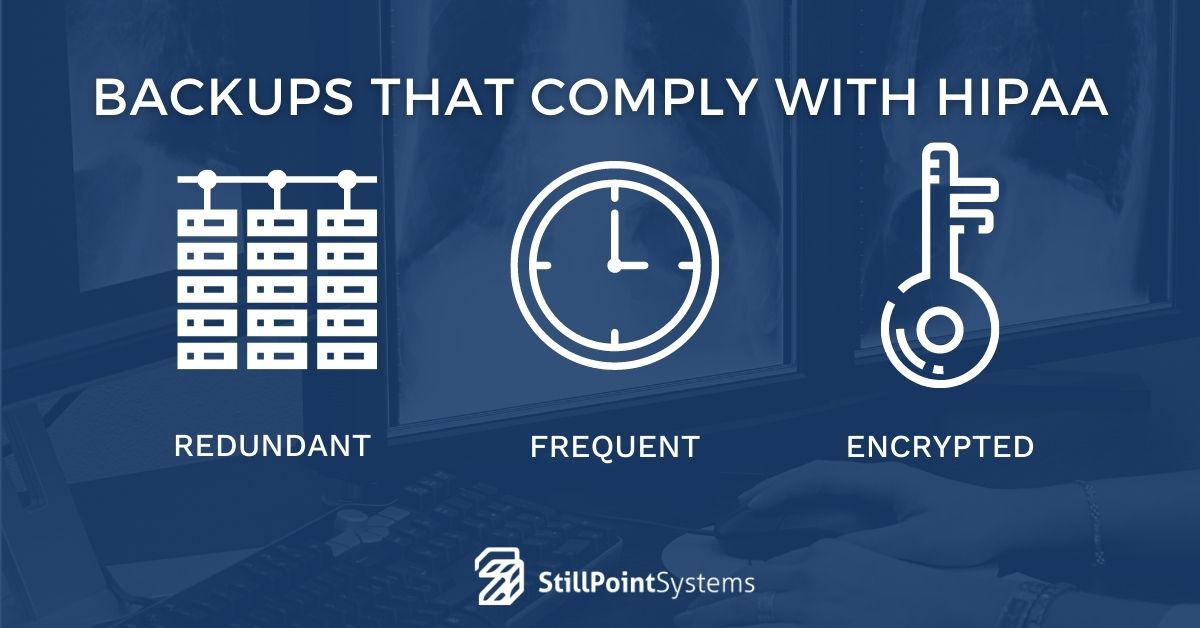 Redundancy
In the event of an emergency that impacts your data stored at your primary location, you need to be able to restore data. Offsite backups, whether in the cloud or at a secondary location, are required. 
Frequent Backups
Data should be backed up as frequently as possible, at minimum, once per day.  
Encryption
Encrypt electronic patient data both at rest and in transit with 256bit AES encryption and use two-factor authentication for access. 
Data Center Security
Off-site backups need to be stored in a secure facility with limited access and 24 x 7 x 365 security and surveillance. If the secondary backup location is in the cloud, the data center should follow standards such as SOC2.  
Limit & Control User Access
Only users and employees that require access to the backups should have access. User authentication methods should be used to verify or deny that access.
Monitoring & Reporting
Backups need to be monitored, regular reports generated and alerts flagged in the event of a backup failure.
Data Restoration
Backup solutions should offer business continuity and disaster recovery so data can be restored easily and quickly.
Data Retention
The HIPAA security rule does not provide guidance for the period of retention for ePHI, however they require retention of documentation for 6 years from the date it went into effect.