Considerations for Recovering & Restoring Your Backups
Recovering & Restoring Your Backups
The main purpose for maintaining backups is to be able to restore and access data and systems in the event of a data loss incident. In most organizations, data loss is inevitable and causes of data loss range from human error, hardware failure or ransomware. Determining how quickly you can recover from a data loss incident, before it actually happens, is imperative. A backup is almost useless if you cannot restore it in the required time needed to keep your business afloat. Each organization has different requirement for restoring data and systems. Determining the following two objectives will help you design and choose the right backup solution for your organization. 
Recovery Time Objective (RTO)
The recovery time objective defines how quickly you need to recover lost data. Can you take hours or days to restore backups or do you need to recover lost data in minutes? 
Recovery Point Objective (RPO)
The recovery point objective defines  how much data you can stand to lose. 5 minutes worth, an hour's worth or maybe your business can stand to lose days' worth of data?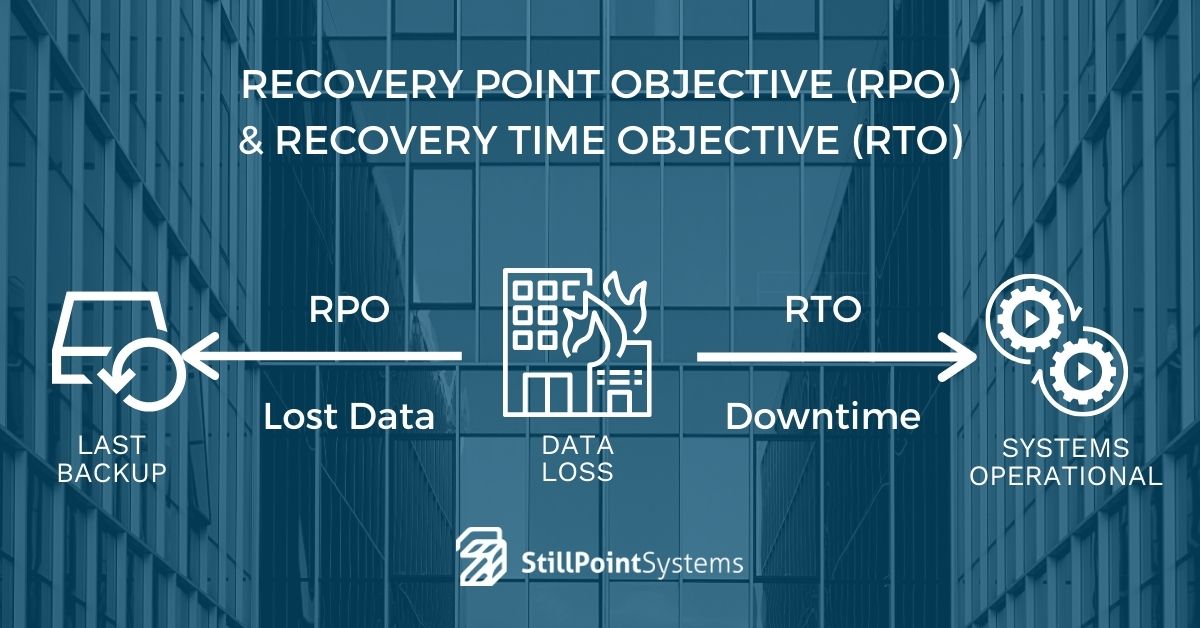 Recover, Restore or Business Continuity
Many words are used to describe the recovery process for data and systems however these terms have very different meanings and business consequences. For example, data recovery is the core purpose of backups and it refers to the ability to get your data and systems back. Restoring the backup refers to the ability to revert your systems, whether it is a computer, a server, or a file to the way it was before the data loss incident. Business continuity refers to the ability to continue operations even in the event of a data loss incident. Backup solutions, at the bare minimum, replicate your data so you can recover your files, folders and information. However more robust business continuity solutions also backup complete systems and enable entire machines to be restored within minutes. 
Backup solutions use various recovery methods. The recovery method you use will depend on the type of backup solution you have.  
Recover From a Device
If your backup solution includes an on-premise backup device or appliance, you can recover directly from the device. Recovery from an on-premise device is generally very quick and is ideal for scenarios such as accidental data deletion, hardware failure or ransomware. Some on-site devices allow the creation of virtual machines right from the device so complete machines (including applications, settings, files and folders) can all run from the device. This enables quick recovery of servers and machines.  
Recover From the Cloud
If your backup copy is in the cloud only, recovery will require that you download backed up data. Depending on the amount of data you have and the speed of your internet connection, this may be a very slow process and may result in hours or days worth of downtime. 
Recover In the Cloud
If your only backup copy is in the cloud or if your on-premise backup device is damaged, you may be able to create a virtual machine or an entire environment right in the cloud. If your backups include complete system backups, recovering in the cloud will enable you to continue operations within minutes.  
Recover to a New Machine
Also referred to as bare metal restore, you can make a 1 to 1, exact replica of an entire working server or workstation including the applications, operating systems, configuration settings, data files and user preferences. This quick recovery technique can take minutes to get a machine up and running again.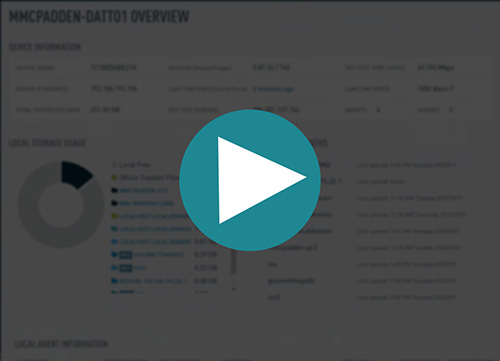 See how easy it is to restore a backup to a virtual machine in just a few clicks. In this FREE 7 minute demo, we present the Datto Siris and show you how easy it is to manage and restore your backups.